Hi Everyone,
Great News! The video of our ice show is complete! A Huge Thank You goes out to James Watson for the countless number of volunteer hours he spent both at the rink videoing the performance, and at home editing! The final product looks FANTASTIC! We could not be more happy with it!
Below is a link to download the show. Due to its size (1GB, 52min) we have to distribute it through dropbox. Please be patient in allowing it time to download, it may take a while due to the size of the file. We hope you enjoy the video, please feel free to share the link with family and friends!
https://www.dropbox.com/sh/pdy2ub9f5ht459z/dlDh1xgPgo
We will be having registrations for next season starting in August, please check the newspapers, website, facebook page, for information over the summer. We thank each and every one of you for a TERRIFIC season! And hope to see you all back next September! Have a great Spring/Summer!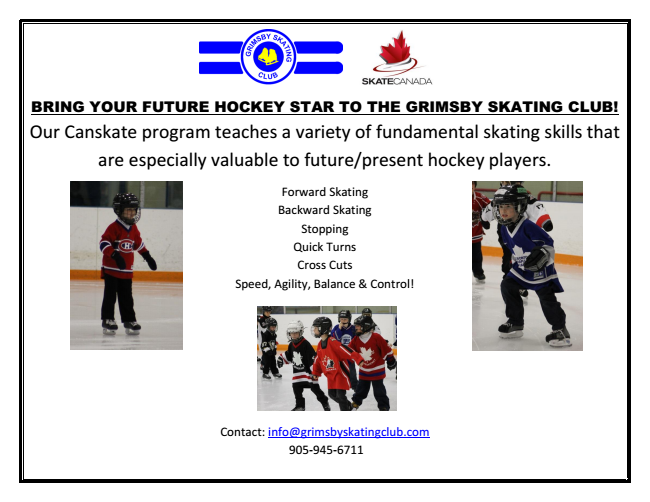 Contact: info@grimsbyskatingclub.com

The Grimsby Skating Club is a non profit volunteer organization. The purpose of the club shall be to encourage the instruction, practice, enjoyment and advancement of its members in all aspects of figure skating in accordance with the rules and policies of Skate Canada.
As a member of Skate Canada, we are affiliated with the Western Ontario Section and the Niagara Area Figure Skating Council. Anyone may join a skating program that suits their needs or join as a non skater and take an active part in the operation of the club.