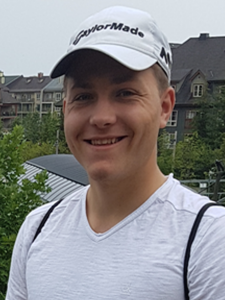 Michael Karasinski
Born: September 16, 1998
Years of coaching experience:
First Year coaching
Years of skating experience:
9 years (3 years Competitively)
Personal Accomplishments:
National Competitor in Pre-Novice Level
Ontario Winter Games Bronze Medalist
Provincial Silver Medalist
Pre-Juvenile sectionals Gold Medalist
Juvenile sectionals Silver Medalist
Pre-Novice sectionals Bronze Medalist
Western Ontario Centre of Excellence Team Member
WO Development Team member (3 years)
Gold Freeskate Test
Gold Skills Test
A Little Bit About Me:
Hello! My name is Michael Karasinski. I am 19 years old and I am currently enrolled in the Sports Management Program at Brock university. Some of my passions and favourite past times include: Golfing, Fishing, and Eating delicious food.
Coaching Philosophy
Why I coach Figure Skating? I coach figure skating because I believe in motivating others and assisting them along their path to achieve their personal goals. I activity work with the skater to cater to their style of learning by providing auditory advice, visual demonstrations, and actively listening to my students in order to make their lesson as enjoyable as possible. By incorporating these elements into my coaching, I hope that I can effectively share my passion of skating with my students, and help my students achieve their personal goals while taking pleasure in Figure Skating.